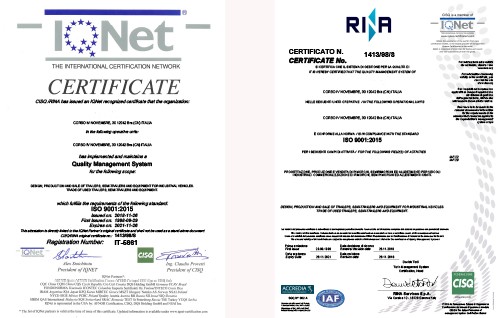 Quality is the means by which the Rolfo Group moves towards excellence in order to offer their customers valid, safe, fast and cost-effective services that are increasingly responsive to real needs.
Since 1998 a Quality Management System has been created and implemented in compilance with the requirements of ISO 9001 to demonstrate the ability to supply products and services that meet customer requirements and comply with the law..
In addition, the System guarantees a continuous improvement of process performance that impacts on company productivity, customer satisfaction and company image, which is achieved through a plan of defined and measurable objectives and targets for all processes in the organisation in line with company strategy.
ROLFO SERVICE offers its experience in the creation and management of Quality Management Systems, providing the advice of qualified personnel for a careful analysis of process, for the identification of the right strategies for problem solving or aimed at achieving objectives defined by the customer, ensuring added value for a safe and satisfactory growth of your business.